printers
Canon MG5420 Review
A mid-range multifunction, the MG5420 punches a bit above its weight class.
$149.99 MSRP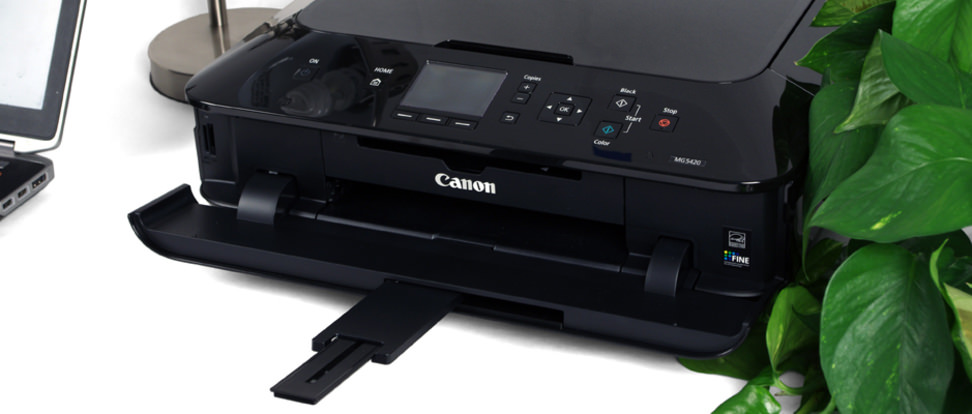 The Canon MG5420 is better than 59% of the photo printers we tested.
It is better than 58% of the photo printers we have tested under $200.
It is better than 52% of the inkjet photo printers we have tested.
Color Performance
In short, the color performance of the is surprisingly good for its price point. Not only does it sport a relatively wide color gamut, but its color accuracy is passable for printers even a bit more expensive.
The average measure of color error is 7.3 ∆E
It does have some errors more visible than others, and even though the average measure of error is 7.3 ∆E, it struggles a bit more with bluish green (12.7∆E), purplish blue (11.8∆E), and magenta (11.2∆E) a little more than it does with other colors. That's not terribly surprising, and it's really not as bad as it sounds—while it may be ever-so-slightly visible to some, chances are good you won't really notice it too much.
The bright spot here is the gamut: sitting at 55.82% of the Adobe RGB color gamut, this printer can reproduce a huge range of colors not normally within reach of an inkjet printer.
Detail
Both of the latest printers in Canon's MGxx20 line actually do very well with detail, and the MG5420 is no different— not only does it handle fine lines very well, but sharp high-contrast edges are also fairly well-produced, though there is some blurring of edges there.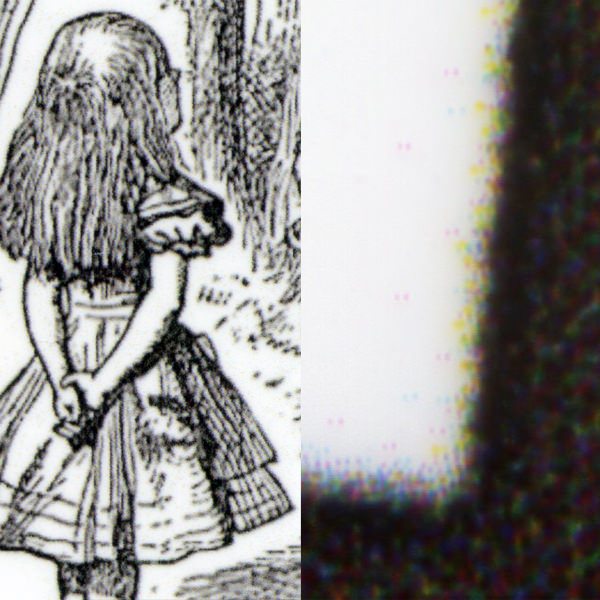 Our scans are very, very tiny (think, less than a square inch, and .1" x .1" respectively), so tiny errors in the picture aren't going to show up to the naked eye that well. Really, we look for glaring issues, and aside from the blurred edges in the small scan, there were none with the MG5420. While that's certainly impressive, it's even tougher for a printer to make an adequate gradient, which the MG5420 handles famously. You will notice a little bit of color banding in the darker blues, but overall the detail in shadows and gradients is quite good.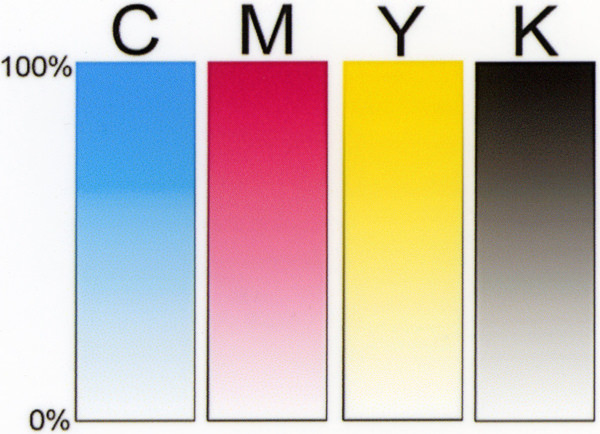 So what makes a high level of detail in color possible? Much like it is on televisions, good contrast goes a long way to making your images pop. Because the MG5420 measured with a "might as well be perfect" black measure (DMax) of 2.95, the limiting factors on making your printed photos' contrast is the paper you use, and ink technology—not the printer.
Print Speed
In this day and age speed is king, but as with most things, if you want the best quality you'll have to wait for it. Moving at a very slow pace of 2.42 seconds per square inch of photo space on Best quality, you'll probably get annoyed if you have a large print job and somewhere to be. However, the quality delivered is worth the wait.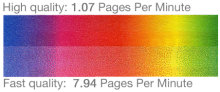 Printing documents is also extremely slow on the highest print quality: by taking 23 minutes, 24 seconds to print a 25 page document, the MG5420 will leave you waiting for a page every 56.16 seconds. Yikes. However, all hope is not lost: if you absolutely need a document right now, lowering the print quality to "fast" will enable your MG5420 to blast out that same 25-page document in only 3 minutes, 9 seconds. Sure, you lose some of the quality, but this printer seems to mitigate that problem fairly well.
Comparable Products
Before you buy the Canon MG5420, take a look at these other photo printers.
Our editors review and recommend products to help you buy the stuff you need. If you make a purchase by clicking one of our links, we may earn a small share of the revenue. Our picks and opinions are independent from any business incentives.