printers
Canon Pixma MG8120 Multi Function Printer First Impressions Review
Hands on with Canon's latest All-In-One printer, scanner and fax device.
$649.99 at Amazon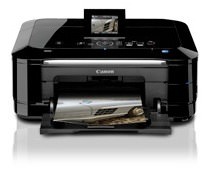 Product Tour
On the top of the printer is a 3.5-inch LCD screen. This can either lay flat against the printer body, or flip up and angle up to 90 degrees. Below this are a series of buttons and a 4-way directional pad with a scroll wheel around it.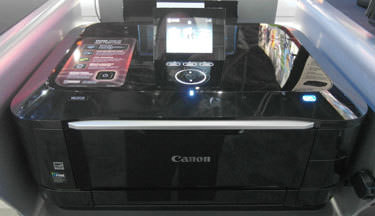 The M8120 is one of the first printers to use Canon's new Intelligent Touch System, where the buttons that control the printer are touch controls on the printer body itself. The buttons are only illuminated when they are needed, depending on which mode the printer is in: buttons that aren't relevant don't show up, presenting a simpler interface for the user.See the two photos below for an example of how this process works.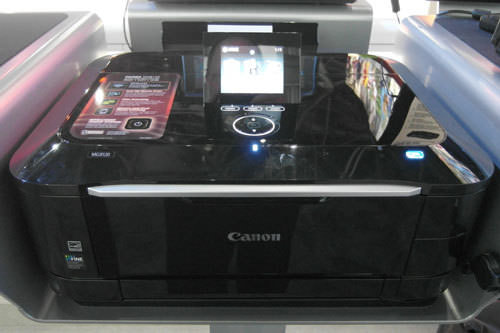 The printer when it is turned on: the three buttons below the screen choose the mode
After the mode is chosen, more buttons light up as they are needed
The scanner is located underneath the top panel.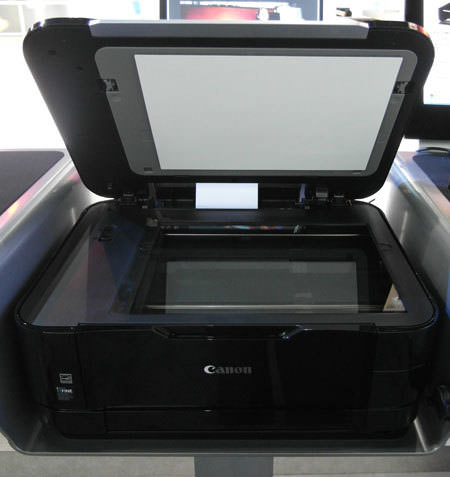 The scanner bed of the MG8120
Ink Cartridges
The MG8120 uses 6 ink cartridges in all: the standard cyan, magenta, yellow and a large black, plus a gray and photo black. The idea of the two black cartridges is that documents are printed using the standard black, but photo prints use the separate black which is more suited for photo paper use. The gray ink also allows for better black and white photo reproduction, Canon claims.
{{article.attachments['CANON-MG8120-INK-LOCATION.jpg']}}
The ink cartridges of the MG8120 in place
Sections
News and Features